In countries that have experienced a sustained period of conflict, repression, or human rights violations, the existing justice system may not be equipped to provide adequate recourse. In the aftermath of sustained periods of strife, political and legal institutions may have been found complicit in atrocities or otherwise ill-equipped to ensure accountability. At such times, judiciaries and criminal justice systems may also be weak, have few resources, or lack public trust.
Transitional justice has emerged as a mechanism for post-conflict communities by serving their immediate and long-term needs as they recuperate from systemic violence. Transitional justice offers victims a means for seeking redress and empowers societies to hold bad actors accountable while developing preventative strategies against future atrocities. A transitional justice approach achieves these goals by combining elements of criminal, restorative, and social justice.
Defining Transitional Justice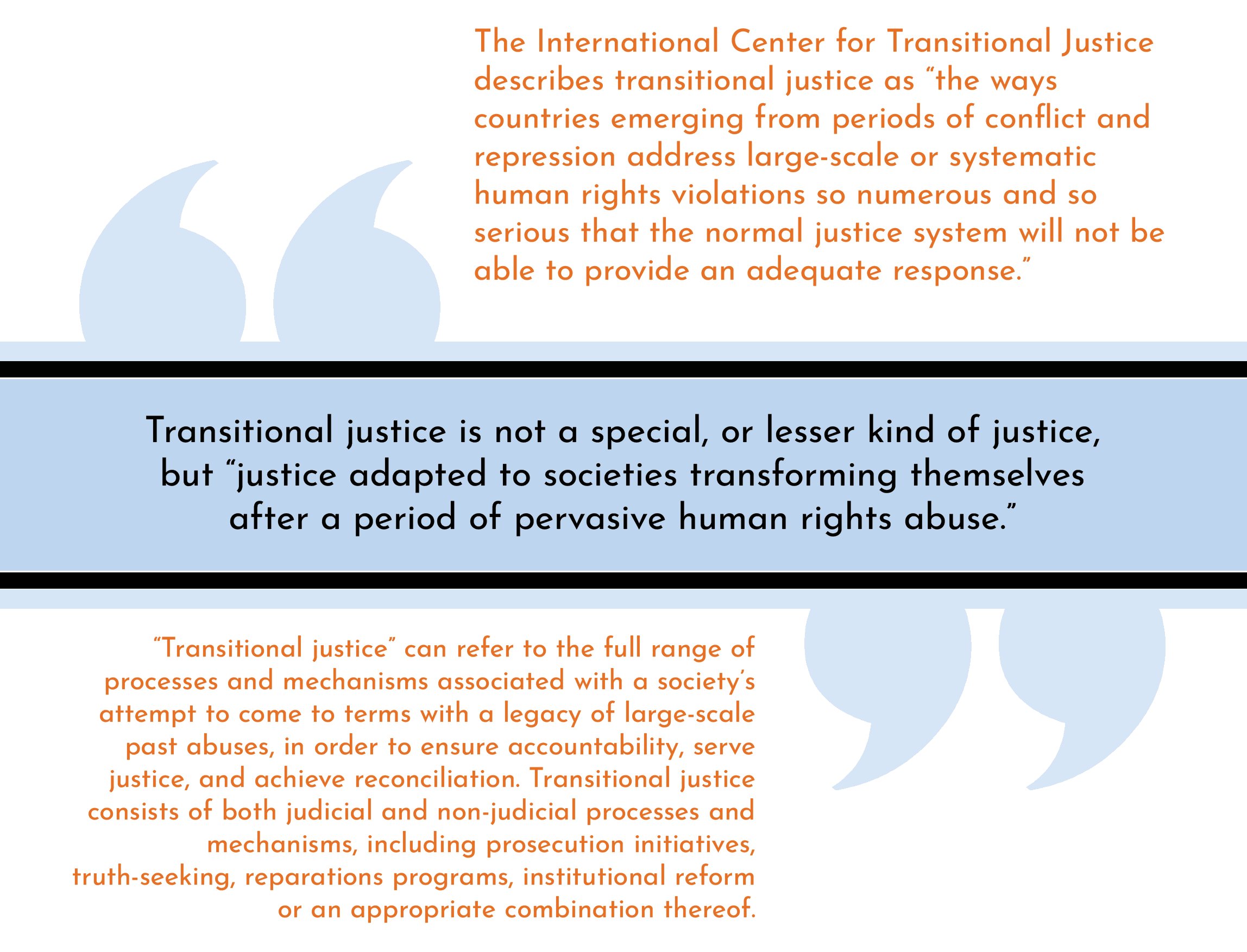 Goals of Transitional Justice
Although the structure and goals of a transitional justice system are shaped by a nation's history and recent abuses, some elements are consistent across contexts: affirming the dignity of all persons; recognizing and redressing violations; and making efforts to prevent reoccurrence. Thus, those responsible for developing a nation's transitional justice system can learn from and adapt methods that have previously been successful elsewhere.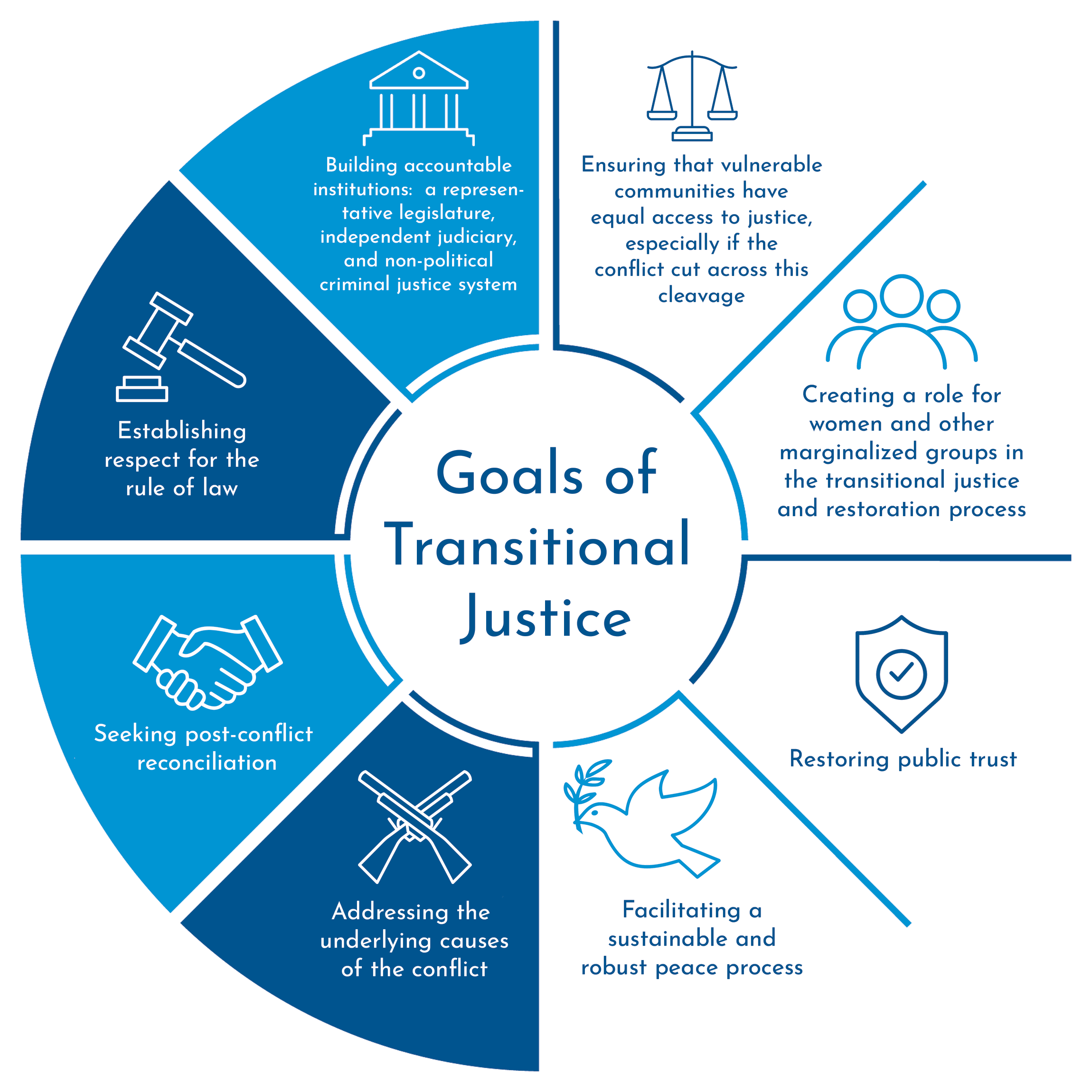 Transitional Justice as Complementary
Survivors, citizens, and the international community often demand the prosecution of those responsible for human rights atrocities. However, prosecution alone, through "traditional" criminal justice mechanisms, may not be appropriate for all post-conflict contexts. Notably few post-conflict societies are fully functional; their criminal justice systems—including the judiciary, police, and prosecutors—may have been complicit in repression and violence. For societies with effective justice systems, however, cases of genocide or wide-spread human rights violations concern hundreds of thousands of victims and perpetrators—a scale that would overwhelm even fully functional criminal justice systems. Even more, the traditional criminal justice system often has barriers to entry, whereas transitional justice mechanisms enable broad participation.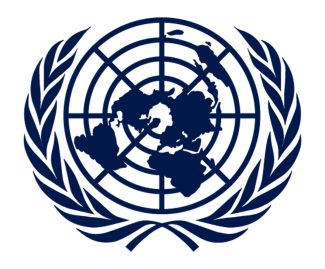 The United Nations has outlined reparative measures that can be implemented through a transitional justice approach to complement any criminal justice procedures also undertaken. These include restitution, compensation, rehabilitation, satisfaction, and guarantees of non-repetition.
Transitional justice efforts are complementary of the criminal justice system and adopt a holistic approach to achieving justice for victims and survivors. As aforementioned, prosecution is not a one-size-fits-all solution: victims and survivors may seek commensurate redress beyond available legal remedies (e.g., incarceration) and find justice in conciliatory, reformative, and symbolic currency.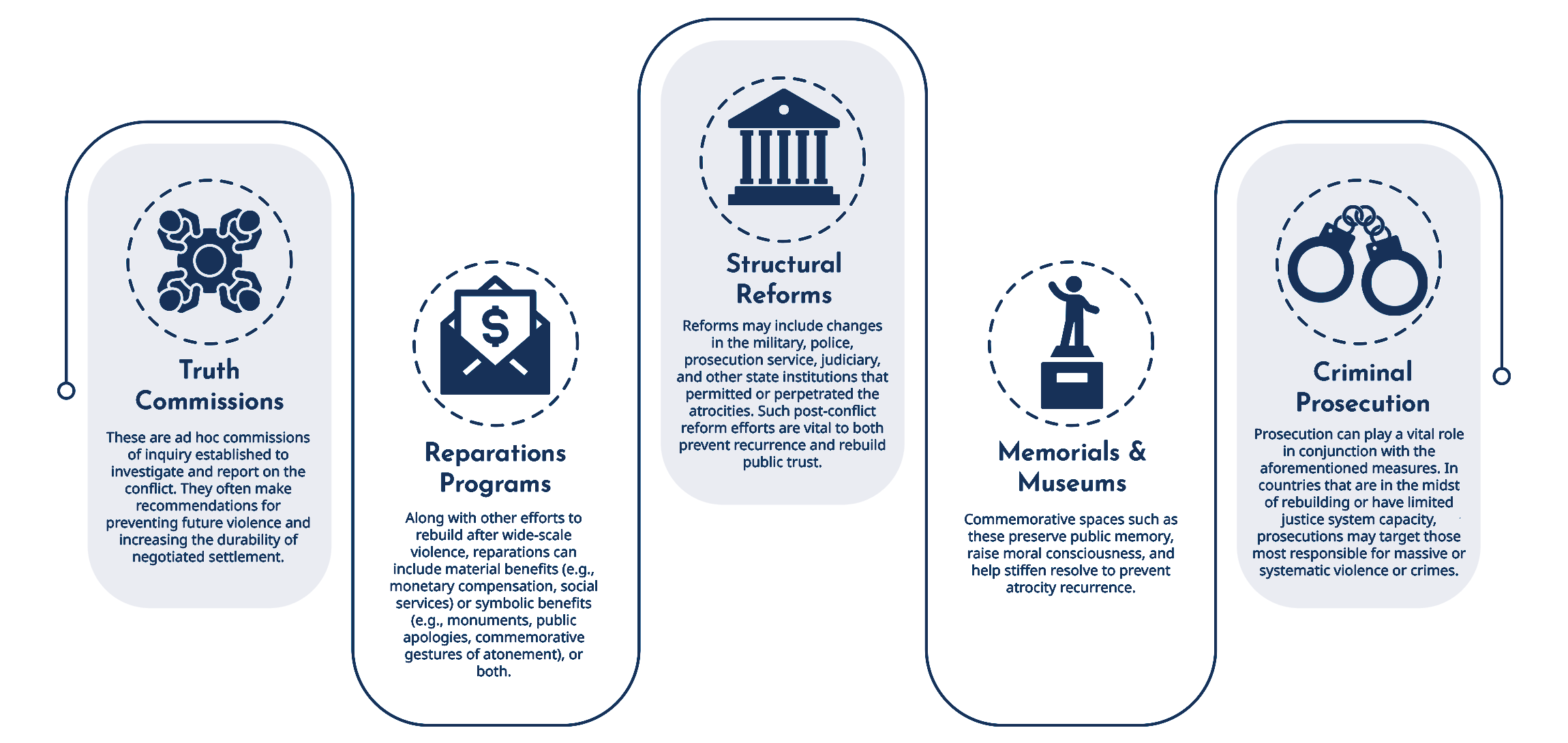 Examples of Transitional Justice
Cambodia
In
Cambodia
, the legislature created the Extraordinary Chambers in the Courts of Cambodia (ECCC), a judicial body
established
in conjunction with the United Nations to address the atrocities of the Khmer Rouge. The primary purpose of the ECCC is to subject leaders to judicial process under Cambodian and international humanitarian law. The commission also has a mandate for victim support, media outreach, and national education.
Canada
Canada
reached a settlement agreement to address the legacy of Indian Residential Schools. One element of the settlement includes a Truth and Reconciliation Commission. In addition, there is a Common Experience Payment for eligible former students, an independent mechanism for reporting claims of abuse, commemorative activities, and an ongoing financial commitment to Indigenous communities and organizations.
Chile
The National Corporation for Reparations and Reconciliation in Chile runs reparations programs for survivors of the Pinochet regime. Survivors receive pensions, exemptions from military service, and priority access to health-care services. The children of those who were "disappeared" also receive educational benefits.
Colombia
Colombia
is implementing a comprehensive transitional justice system after ending a long-running conflict with the Revolutionary Armed Forces of Colombia (FARC). A provision referencing this transitional justice effort is included in the negotiated settlement between the government and FARC. Colombia's transitional justice includes a truth commission: an organization to search for those believed to have "disappeared" during the conflict. There is also an independent judicial body, known as the Special Jurisdiction for Peace, which was given a fifteen-year mandate to investigate and adjudicate cases from the conflict.
Morocco
In 2004, the Equity and Reconciliation Commission in Morocco mandated U.S. $85 million be paid to 10,000 survivors of the "years of lead," a thirty-year campaign of atrocities and human rights violations. In addition to monetary compensation, survivors are also given health care and other in-kind restorative benefits.
South Africa
South Africa
, in transition from apartheid to democracy, established a Truth and Reconciliation Commission. The TRC had three committees: amnesty, reparation and rehabilitation, and human rights violations. There was also a Register of Reconciliation, which offered members of the public the opportunity to voice regret for failing to prevent human rights violations and to affirm their commitment to reconciliation.
United States
In the
United States
, after George Floyd was murdered in May 2020, there were widespread calls to reform the criminal justice system. Some of these arguments invoked the historical failure to complete the process of Reconstruction after the Civil War. Against this background,
some scholars argued
this was an opportune time to consider transitional justice measures. Although there is no national transitional justice initiative, specific efforts are underway across the country that call attention to the movement for
reparations
and
the legacy of slavery in the United States
. For example,
Maryland's Lynching Truth and Reconciliation Commission
, established in 2019, investigates historic lynchings in that state. The Equal Justice Initiative
has built
both the Legacy Museum and a National Memorial for Peace and Justice in Montgomery, Alabama.